As blessed as I feel to be able to commute downstairs in my pajamas with a cup of joe in hand and go to work, some days, I walk into my studio and I feel stuck. I am overwhelmed with "things to do" and my muse has gone in to hibernation.
Yesterday was such a day. I have been scrambling with a busier than usual personal life as my husband mends from heart surgery, while juggling show season, ornament making and some commission work. I think my muse went to take a nap somewhere because I stared at several empty canvases knowing I NEEDED to finish some work but completely paralyzed to do so!
YIKES!
Well I decided to give myself a break. Yup. (And a time limit.)
I gave myself exactly 60 seconds to put "something on canvas" ~ no time to think or perfect, just paint loose and free. No agonizing over color mixing or perfect drawings or "what am I feeling?"...nope! Just 60 seconds and some paint on a palette.
I didn't have time for it. And I let myself be okay with the fact that what I would put down would probably be garbage. I decided to step in to a judgement-free minute and go for it!
And you know what? I actually had fun!
And I kind of like what I painted. It looks nothing like my regular style, but it pushed me and it woke my muse. The rest of the day I attacked my work load with a new vigor and at the end of the day I was happily covered in paint with some work ready for my show this weekend.
Here is a photo documentation of my little experiment.
The first one is after 60 seconds. After that I continued to give myself timelines that were short.
I think I might call this piece "Awakening".
I challenge you to give yourself a break, some permission to be free and play! You might just wake your muse!

I added this post to a link party over at A Colorful Journey. Check this out to find other inspirational posts by artists!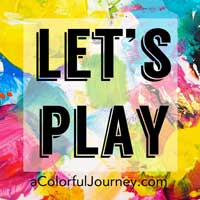 ​
_